How Parents Can Fight Misinformation From Home (and earn vaccines for UNICEF)!
How Parents Can Fight Misinformation From Home (and earn vaccines for UNICEF)!
It could be in your family group chats. It could be a random video on Youtube, or TikTok, or an Instagram post. It could also come from the news, or from some heads of state. The current pandemic has made it more challenging than ever to protect children from misinformation on the internet. 
Even more challenging—our understanding of the virus is changing rapidly. What was accurate last week might not be anymore.
As the WHO has said, "We're not just fighting an epidemic; we're fighting an infodemic."
The COVID-19 Misinformation Toolkit for Kids (and Parents!) at Home
With many parents temporarily taking on teaching duties, we've created a "COVID-19 Misinformation Toolkit" for kids at home. The toolkit consists of lessons and quizzes from Kids Boost Immunity, our sister site designed for teachers and students. While the content on Kids Boost Immunity is tailored to reflect the curriculum in each province in Canada, these hand-selected lessons are relevant no matter your location. And just like the other I Boost Immunity quizzes, every time kids pass the quiz, they earn a vaccine for UNICEF Canada!
By going through these lessons with your child, you will help them learn strategies on how to successfully navigate through the minefield of online misinformation.  Examples include the basics about understanding bias, the scientific method, as well as details on how to identify misinformation about COVID-19.
In addition, there are extra lessons and quizzes to teach children the basics about the spread of infectious diseases (and why hand washing works!), the immune system, and about outbreaks in general. There's also a lesson on mindfulness and taking a mental break, specifically designed for kids.
These lessons were originally created for students across Canada, and should be appropriate for children in grades 4-12.
We encourage parents to take these quizzes together with their children if they can, but they are also designed to be self-sufficient, with videos to guide children along the way. 
Part 1 - COVID-19: What Students Need to Know (Lesson Updated Often!)
Part 2 - COVID-19 Misinformation: Fighting the Infodemic
Part 3 - What Are Infectious Diseases and How Do They Spread?
Part 4 - What are Outbreaks, Epidemics and Pandemics?
Part 5 - How We Can Prevent the Spread of COVID-19
Part 6 - Taking a Break is Important Too!
Part 7 - Letter of Thanks From UNICEF Canada To You!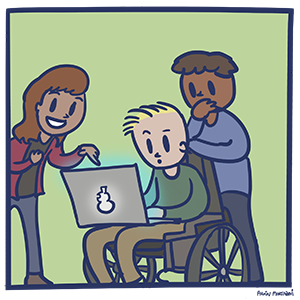 Critical Thinking Lessons for Kids:
We have also posted a selection of critical thinking lessons from Kids Boost Immunity. These are a great supplement to the misinformation toolkit. These lessons cover strategies to evaluate information sources, learning the basics of bias, and the methodology behind the scientific method. 
Part 1 - How to Collect Trustworthy Information: The CRAAP Test
Part 2 - Thinking Critically About Information: Beware of Bias
Part 3 - How to Test Ideas by Creating Experiments: The Scientific Method
Finally, if you are a teacher or know someone who is, we encourage you to visit Kids Boost Immunity. There you will find many more lessons and tools to help teachers conduct full online classes with their students.