Measles: The World's Largest and Fastest Moving Outbreak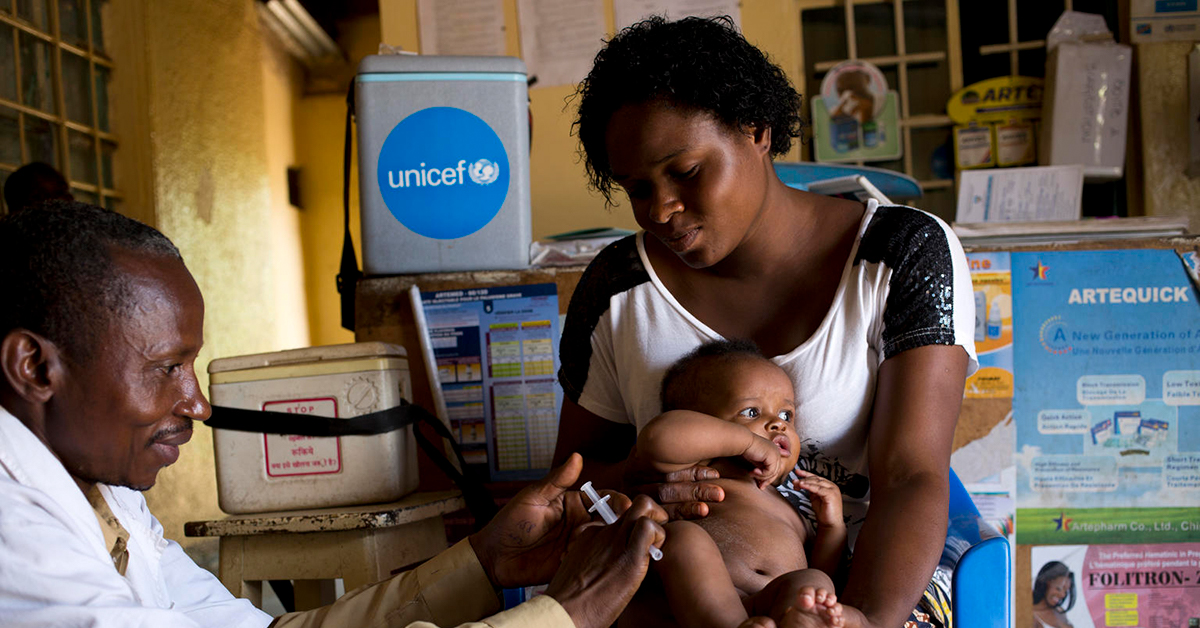 Mother getting child vaccinated in the DRC
In Canada, vaccines against measles are part of regular childhood vaccinations. Around the world though, the number of diagnosed measles cases are on the rise and at scarily high rates. Cases of measles are up more than 200% from 2018, with 690,000 diagnosed cases globally in 2019.
So what is measles? And why is it making a comeback? Here's everything you need to know:
What is measles?
Measles is a very serious and contagious illness that spreads through the air when an infected person breathes, coughs or sneezes – similar to how cold and flu viruses are spread.
How contagious is measles?
Measles is extremely contagious because the virus lingers in the air and on surfaces for long periods of time. You can catch measles just by being in the same room as someone infected with the disease, even up to two hours after the person left. There are no specific treatments for measles. The best way to prevent infection is to get vaccinated.
Why are measles outbreaks happening and what is UNICEF doing to help?
Simply put, measles outbreaks are happening because of lowered immunization rates. Because measles is so contagious, a large amount of the population (at least 95%) needs to be vaccinated to help stop the spread of the disease. Outbreaks occur when vaccination rates dip below this level.
In Samoa, which is experiencing a severe measles outbreak that started in late 2019, vaccination coverage dropped from 58% in 2017 to just 31% in 2018. In fact, the government had to shut down schools and UNICEF delivered over 260,000 vaccines to help fight the measles outbreaks across the country. Similarly, the Democratic Republic of Congo (DRC) reported over 250,000 cases of measles in 2019, and UNICEF had supplied more than 8.6 million doses of the measles vaccine to vaccinate over 1.4 million children in affected areas.
UNICEF works around the clock to vaccinate as many vulnerable children as possible. But the combination of poor infrastructure, conflict in the region, and lack of access to basic healthcare mean a large number of children are unvaccinated and at immediate risk.
What about measles in Canada?
Officially, measles is eliminated in Canada. However, this doesn't stop people from travelling to and from other countries to catch measles and bring it into Canada. When this happens, if people are not vaccinated it can spread quickly. Unfortunately, vaccine misinformation has some parents choosing to not protect their children against measles and other vaccine-preventable diseases. This has led to several outbreaks in Canada in recent years.
Listen to a Fraser Health public health nurse talks about the cause of the 2014 Fraser Valley outbreak, and what prevented it from spreading further.
So why don't people get vaccinated?
Reasons for low immunization rates around the world include poor health services and ongoing conflict but in recent years have stemmed from a rise in misinformation about vaccines as well as a growing mistrust in the MMR vaccine, which is used to prevent measles infection, as well as mumps and rubella.
A new Gallup poll found that 46% of Americans are "unsure" if vaccines can cause autism – one of the biggest myths about the MMR vaccine that has been debunked by many scientists and health institutions. In Samoa, UNICEF and WHO created a communication toolkit and resources to be used for measles prevention, including addressing vaccine misinformation. Vaccines are the only way to prevent measles outbreaks but if vaccination rates continue to drop, it's more than likely that cases of reported measles outbreaks will increase even more.
Completing the quiz below will help UNICEF reach as many children as possible and help to put a stop to these deadly outbreaks.
Want to learn more? Click here: https://www.unicef.org/press-releases/measles-outbreaks-continue-unabated-five-countries-accounted-nearly-half-all-measles
Last updated: Jan 29, 2020